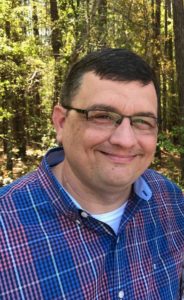 David Bunton is the Minister of Youth at The CrossRoad Baptist Church
and has been in that role since January 2019.
David, born in Savannah, Ga., has served the last 8 years at different churches
David has received his Associate Degree in Sacred Literature and
Bachelor of Theology Degree from
Covington Theological Seminary.
He is currently working towards a Master of Ministry Degree in
Pastoral Leadership
from Andersonville Theological Seminary
David has been married to his wife Alise for 17 years and they have three children,
Joseph (24) , Tyler (23) and Andrew (13) as well as 3 grandchildren.
David and his wife teach the youth during Sunday School. He is also
teaching Wednesday
evening youth worship and activities.