Covington Theological Seminary Savannah Extension is now located at the CrossRoad Baptist Church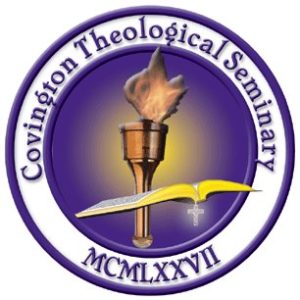 Greetings from the Dean.
Welcome to Covington Theological Seminary Extension at the CrossRoad Baptist Church. I would like to extend an invitation for you to visit our school. We believe that we provide the best opportunity and facility in the area. We are blessed with the finest professors in the Savannah area. Our professors believe that the Bible is the inspired word of God. We are committed to designing and implementing a quality program of Biblical study to meet your individual and specific needs. If I can answer any questions you may have about Covington Theological Seminary, please do not hesitate to contact me. In His Service Pastor Johnny R. Bowen Senior Pastor/Dean Romans 6:23
About Covington
Since 1977 Covington Theological Seminary has been training leaders in the church of the Lord Jesus Christ. We desire those that have a calling on their life to be Christian leader should have the opportunity to study and show themselves approved unto God. We have the unique vision to provide such a Bible-centered, Gospel-centered and Christ-centered education at an affordable price. We want to provide a curriculum that takes into consideration your ministry goals and education status and is a course of study that you can be passionate about. Covington also provides a course of study that will likely fit into your busy schedule and allow you to study when it is most convenient for you. While it is our desire to meet our students at the point of their desired need, we will not deviate from taking our stand on God's Word and we will not deviate in our position that the minister of Christ must be diligent in their studies. We hope that you will prayerfully consider studying with us soon. Covington offers a variety of degrees which allows students to pursue their specific educational needs which better fits them for the calling that the Lord Jesus has placed in their lives. The Covington student can study and receive their degree, Bible, Theology, Pastoral Studies and Biblical Counseling. Come and "Impact Eternity" and the church of the Lord Jesus presently by being biblically equipped to serve our Lord for His glory.
For more information, please contact :
Dr. Johnny R. Bowen, DDiv.
Dean, Covington Theological Seminary Savannah Campus
8510 Middleground Rd.
Savannah GA., 31406
912.663.3753
pastor@thecrossroadbaptist.com