The Largo-Tibet Elementary School Good News Club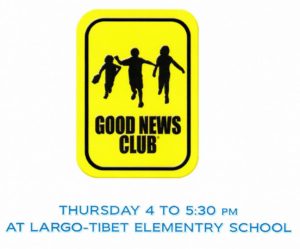 Good News Club is a voluntary after school Bible club that meets each week on Thursday at The Largo-Tibet Elementary School from 4 to 5:30 pm.
Each week an exciting hour and a half club includes a Bible lesson using colorful materials from CEF Press, songs, Scripture memory, a mission story and review games or other activities focused on the lesson's theme. The club includes a clear presentation of the Gospel and provides an opportunity for children to trust Jesus as their Savior. We include strong discipleship training to build character and strengthen moral and spiritual growth.
Who teaches a Good News Club?
Members of The Crossroad Baptist Church and Christian volunteer teachers from the school who donate their time. They are concerned for boys and girls and work together volunteering their time and energy to teach the Good News Club. They are trained by Child Evangelism Fellowship to have a club that is exciting and informative so that children will want to keep coming. Teachers are asked to sign the CEF Statement of Faith and agree to abide by the policies of the organization. Adults working with the program are screened according to the CEF Child Protection Policy which include a national background check. In the United States there is a movement among churches to adopt their local public school and conduct a Good News Club. The Crossroad Baptist Church has adopted Largo-Tibet Elementary School and the students in the 3
How can I get involved?
Contact Jim Shelton, Club Coordinator, at 912-927-0228